New online hub for country music fans offers exclusive programming and lifestyle-relevant Ram Truck brand Integration
Largest online marketing initiative for the Ram Truck Brand
SUNNYVALE, Calif. & AUBURN HILLS, Mich., Oct 14, 2010 (BUSINESS WIRE) — Yahoo! (NASDAQ:YHOO)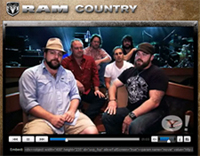 and Ram Truck today unveiled "Ram Country on Yahoo! Music," the first dedicated country music site on Yahoo! Music, which will serve as the ultimate online hub for country music and its biggest stars. "Ram Country" is designed to help Ram Truck reach country music fans online and marks the largest single online marketing initiative for the Ram Truck brand.
"Ram Country" (https://ramcountry.music.yahoo.com) represents the first time Yahoo! has developed a genre-specific music channel with a single advertiser. The new site will allow the Ram Truck brand to connect with a country music fanbase through an engaging mix of music, blogs, news coverage, and original video programming produced by Yahoo!. "Ram Country" will live on Yahoo! Music and will be promoted across the Yahoo! network.
Ram Truck will be seamlessly integrated into programming featuring the biggest names and rising stars of country music. Creative executions featuring video, eye-catching graphics and audio will be launched across the "Ram Country" channel.
"'Ram Country' showcases the best of online marketing and programming by providing relevant and entertaining branded programming at mass scale," said Jeff Bronikowski, head of Yahoo! Music. "Country music represents an ideal platform for Ram Truck to reach its target audience and build brand loyalty. It is this type of personalized, content-rich programming that allows Yahoo! to be the center of people's online lives."
"When the Ram Truck brand was formed, we made a stronger commitment to better understand our customer so that we could connect with them on a deeper and more personal level; 'Ram Country' is an example of how we are staying true to that commitment," said Fred Diaz, President and CEO – Ram Truck Brand, Chrysler Group LLC. "Through our partnership with Yahoo!, the Ram Truck brand will be able to use the website as a vehicle to define and communicate the Ram Truck lifestyle as well as deliver information and messages about our products."
"Ram Country" offers country music fans an unprecedented way to connect with their favorite artists. The website spotlights a range of artists through a compelling mix of video programming, news, photos, and promotions. Yahoo! will produce reality-based video programming for the site, such as:
Going Home, a docu-reality series featuring a country music artist in his or her hometown.
The Studio, a program in which a country artist performs and is interviewed in the "Ram Country" Studio.
Music With a View, a scaled-down acoustic performance series that takes place outside in a natural setting.
Country Covers, a program in which a current artist covers a classic country song or another song by a contemporary artist, as well as his or her own current hit single.
Another Side Of, a reality segment that looks into a day in the life of a country artist – giving fans a unique view into what the artist does in his or her spare time and overall lifestyle.
Through its expanded original content and genre-specific focus, "Ram Country on Yahoo! Music" represents the next step in the evolution of music-themed branded programs created by Yahoo! for national advertisers.
In recent years, Yahoo! Music created successful music-driven programs such as live concert series and Pepsi Smash!, a youth-targeted music series. "Ram Country on Yahoo! Music" builds upon Ram Truck's overall comprehensive marketing and advertising strategy for its brand, which is designed to help it connect with its customer on a deeper, more personal level.
*Source: Yahoo!
(Visited 27 times, 1 visits today)