No matter what evil tongues may say, a fact remains a fact. Alina Kabaeva bid farewell to her ribbons, hula-hoops and Indian clubs to conquer politics. Her achievements in politics continue to grow at an impressive pace. For example, Kabaeva, formerly one of world's most prominent rhythmical gymnasts, has recently been listed as one of world's sexiest women in politics.
The idea to make the list of most attractive women in politics belongs to US-based journalist Eric Golub. The journalist made a curious list indeed. He did not rate the members of his list from the point of view of their physical attraction. Mr. Golub divided them into three groups: centrist, leftist and rightist female politicians. As a result, 30 women from different countries of the world found themselves in Mr. Golub's melting pot.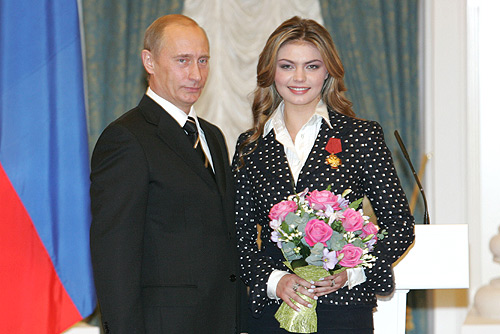 About the image: Alina Kabaeva decorated with the en:Order of Merit for the Fatherland by the then President Vladimir Putin on 21 December 2005. Author: Russian Presidential Press and Information Office. Image credit: https://www.kremlin.ru
Alina Kabaeva, a former athlete and currently a member of the State Duma, is the only Russian woman on the list. The Olympic champion topped the list of most attractive female liberals and democrats. Before putting Kabaeva on the first place in that group of the list, the journalist mentioned the scandal, in which the gymnast found herself three years ago. It goes about the myth, which said that Alina was having an affair with Prime Minister Vladimir Putin. The journalist said that neither Kabaeva nor Putin confirmed the rumors ever. The hoax originally appeared in Russia's Moscow Korrespondent newspaper. The newspaper no longer exists. However, it appears that the notorious story continues to surface in the media here and there.
The part of the list, which Kabaeva tops, includes a well-known TV host and global star Oprah Winfrey. Judging upon the description, which Mr. Golub provided, the journalist paid attention to Winfrey's position in the society, rather than her looks.
"After 25 years she is leaving television. Despite her liberalism, conservatives should always appreciate her for knocking Phil Donahue off the air. We should also fear her: She runs the world. Her boyfriend, Steadman Graham, is the current Attorney General," Eric Golub wrote for the Washington Times Communities.
In Golub's list, Winfrey left behind such beautiful liberals as Tina Fey, attorney Tamara Holder, NBC correspondent Norah O'Donnell and Barbara Boxer.
The centrist part of the list of most beautiful women in politics is topped by the dancer from Morocco Karima El Mahroug, aka Ruby. This woman got into spotlight after she became one of the main characters of Silvio Berlusconi's sex scandal. Karima has nothing in common with the tough world of big politics. Mr. Golub put the 18-year-old beauty on the pedestal just because of her pretty face and passion for the powers-that-be.
– By Ellada Karibova
*Source: Pravda (slightly modified from the original version)
(Visited 461 times, 1 visits today)