Since yesterday, Google's Alexa ranking fell behind YouTube and Live.com. Google was 2nd in the rank, now stands 4th.
The rise of YouTube can be because of Valentine's day as naturally all youngsters gathered there to share their love and to find much fun. But Live.com's upgrade to the 3rd position can not be related to any day's special flavour. It should come from the users.
In any case this year internet will see many changes in its traditional pattern. Arrival of new or local search machines in the internet station, new advertising companies, and many new start-ups can grow to become bigger movers and shakers of 2008!!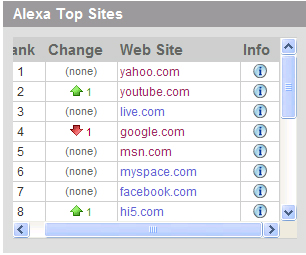 (Visited 27 times, 1 visits today)