WASHINGTON — Scientists have long known that heat-absorbing components of Earth's atmosphere, such as clouds and certain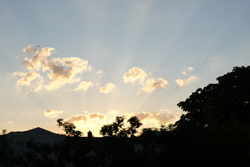 gases, prevent our planet from being an ice-covered ball. Now a study, for the first time, comprehensively calculates the relative contributions of the components responsible for that heating, known as the greenhouse effect.
Besides clarifying an important aspect of climate science, the study also demonstrates that rising concentrations of one heat-trapping gas — carbon dioxide — leads to much more greenhouse warming than just the heat the gas absorbs directly itself.
Various studies have looked at the contributions of water vapor, CO2, and other greenhouse gases. But none had systematically estimated the contributions of each of the main players, says climate scientist Gavin Schmidt of NASA Goddard Institute for Space Studies, and lead author of the new research. (more…)