REDMOND, Wash. — As Windows 7's one-year anniversary approaches, Microsoft is bringing together the power of the PC with the promise of the cloud. On Thursday, September 30, Microsoft released Windows Live Essentials, a set of free applications that helps Windows 7 users connect, create, and share online. The software suite is available for download and includes Windows Live Photo Gallery, Movie Maker, Messenger, Mesh, Mail, Family Safety, and Writer.
Windows Live Essentials reflects a changing landscape in consumer behavior, where more and more people communicate and share online, says Jamie Cannon, group product manager for Windows Live. Today's release offers Windows users an integrated experience that acts as their "key to the cloud."
"We've brought together the best of Windows with the best of the Web," Cannon says. "People are spending more time in the cloud, and as a result it's where people communicate, connect and share. And so, we believe that bringing them together in a seamless way allows consumers to bridge the power of both."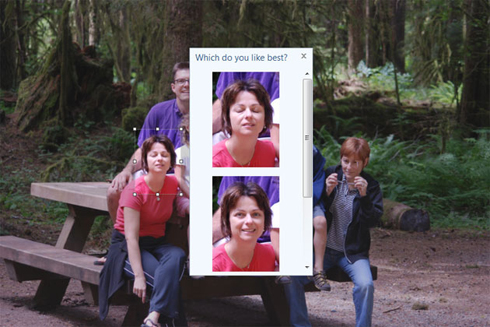 About the image: Take the best parts of several photos to make one great picture with the Photo Fuse feature in the new Windows Live Photo Gallery. Image credit: Microsoft
Windows Live Essentials is that bridge, Cannon says. The free suite helps users share their photos and movies, organize their e-mail, and stay in touch with the people that matter most, regardless of whether those people use social networks, chat or traditional e-mail, he says. It also enables users to access their "stuff" from anywhere over the Internet.
"We're getting every Windows 7 PC connected to the cloud with Windows Live Essential," Cannon says. "It takes the Windows that you know and brings the promise of the cloud so you can create, communicate and share all from one place. With Windows and Windows Live, you're connected to your people and your networks whenever and wherever you want – from your PC, devices and phone."
Windows Live Messenger
Microsoft has made the new version of Messenger more social, Cannon says. "We like to think of Messenger as your people app. It's the one place to stay up to date on all the social networks you belong to."
In addition to the familiar IM service, Messenger now brings together all the content from a user's social networks. It incorporates updates and newsfeeds from sites such as Facebook and MySpace, and lets users comment on them right from Messenger. Users can easily share photos across their networks, plus Messenger introduces an immersive experience for viewing friends' photo galleries from Facebook. Inline video eliminates the need to leave Messenger to watch YouTube videos that friends post.
The Windows Live team also included updates to improve chat. For example, high-definition video chats are now available through Messenger. And users can hold multiple conversations at the same time through the new tab chat feature. Facebook chat, another feature, lets people IM across networks.
"We didn't want to create another social network," Cannon says. "We really designed Messenger to help you stay in touch with the people that matter to you most, wherever they already are."
Photo Gallery and Movie Maker
Today, people have more photos and video than they know what to do with, Cannon says. An explosion of digital photography is underway; people took 87 billion more photos this year than last, totaling 622 billion worldwide.
The updated Photo Gallery aims to help people organize all their photos and videos. Users can quickly search based on metadata like geo-location tags and date stamps. New facial recognition technology helps find and organize photos by people.
New editing tools will help make those photos look great, Cannon adds. Photo Fuse lets users combine the best parts of a picture series into one perfect photo. With Retouch, users can remove blemishes or other imperfections with a few clicks.
Sharing photos is also easier, Cannon says. Right from Photo Gallery, users can easily publish photos to their social networks such as Flickr, Facebook and SkyDrive. And a feature called Photo Mail will send a personalized photo album through e-mail without clogging anybody's inbox.
With Movie Maker, a few clicks transform photos into a movie slideshow that can be sent to friends and family, Cannon says. The new app includes easy-to-add transitions and visual effects. The AutoMovie feature can take a series of photos and quickly build a movie with transitions and music based on a personalized theme that the user selects. It also automatically uses captions and tags captured in Photo Gallery to create titles, captions and credits. As with Photo Gallery, users can quickly share their movies with the people they care about across their networks like Facebook and YouTube.
"With Photo Gallery and Movie Maker, we focused on making advanced features easy for anybody," Cannon says.
Windows Live Mesh
People are on the go and busier than ever, Cannon notes. They have different PCs for work and home, and they want to access their stuff wherever they are. That's what Windows Live Mesh provides.
The newest member of the Windows Live family, Mesh lets Windows 7 customers sync files across their devices, including both PCs and Macs; automatically sync files to the cloud and always keep them up to date; and access their home PC from anywhere with remote desktop through the cloud.
"When you think about bringing the PC and the cloud together, this is what shines most," Cannon says.
Mesh also gives users 5 free gigabytes of storage on Sky Drive, a free cloud storage service from Microsoft.
*Source: Microsoft
(Visited 13 times, 1 visits today)