*Researchers at UM's Brehm Center for Diabetes Research examines immunotherapy for treatment of ever-increasing cases of type 1 diabetes*

 
ANN ARBOR, Mich. – Researchers at the University of Michigan's Brehm Center for Diabetes Research have received a $3.3 million grant from the National Institutes of Health that could lead to new drug targets for early treatment of type 1 diabetes.
Using immunology laboratory findings and mathematical models, researchers expect to create a detailed picture of the immune responses leading to the pancreatic cell damage in those considered at risk for developing type 1 diabetes.

 
Understanding these immune responses opens the door to discovering new drugs that can halt the progression of type 1 diabetes.

 
Once known as juvenile diabetes, type 1 diabetes is increasing among young children and adults and approaching epidemic levels. It tends to run in families and the disease begins its destructive course before people know they have it.

 
"This grant allows us to take the critical step in translating molecular immunology discoveries with the help of mathematical models into treatments for the disease," says Massimo Pietropaolo, M.D., professor of internal medicine at U-M and director of the immunogenetics laboratory at the Brehm Center.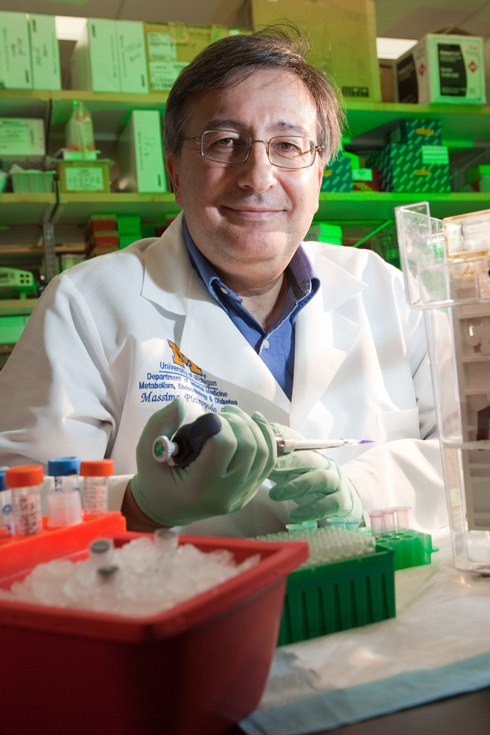 About the image: Professor Massimo Pietropaolo, M.D.Image credit: University of Michigan

 
"These studies will help understand the adaptive immune responses predicting type 1 diabetes onset and may ultimately validate a subset of B cells as drug targets in an effort to guide drug discovery to treat this disease," says the U-M researcher.

 
Pietropaolo's investigative team includes:
Santiago Schnell, Ph.D., co-investigator, associate professor of computational medicine and biology at the U-M Medical School; and
Gilbert Omen, M.D., Ph.D., professor of internal medicine at U-M Medical School and director of the Center for Computational Medicine and Bioinformatics; and
Arthur Sherman, Ph.D., director of the laboratory of biological modeling at the National Institute of Diabetes and Digestive and Kidney Diseases.
"This is a unique example of interaction between experimentalists and mathematical modelers to investigate the role of adaptive immune responses and T cell avidity in type 1 diabetes," says study consultant Gerald Nepom, M.D., director of the Benaroya Research Institute at Virginia Mason University of Washington, and director of the Immune Tolerance Network.

 
A number of clinical trials are currently testing new therapies in newly diagnosed type 1 diabetic patients and their relatives. The goal is to block the disease process and ultimately prevent the clinical onset of type 1 diabetes. The U-M TrialNet affiliate site led by Pietropaolo is part of this initiative.

 
*Source: University of Michigan
(Visited 14 times, 1 visits today)