*First phones available soon from leading mobile operators around the world.*
REDMOND, Wash. — Oct. 11, 2010 — Microsoft Corp. today joined its partners in revealing nine new Windows Phone 7 handsets that will be available this holiday season from leading mobile operators in Europe, North America and Asia Pacific. With more than 60 mobile operators in over 30 countries worldwide committed to bringing Windows Phones to market, the millions of people around the world looking for a phone that plays as hard as it works will have a variety of phones from leading device-makers to choose from.
"We have a beautiful lineup in this first wave of Windows Phone 7 handsets," said Steve Ballmer, chief executive officer at Microsoft. "Microsoft and its partners are delivering a different kind of mobile phone and experience — one that makes everyday tasks faster by getting more done in fewer steps and providing timely information in a 'glance and go' format."
Global Portfolio
Microsoft and its partners have worked together closely to create a different kind of phone with new experiences that bring together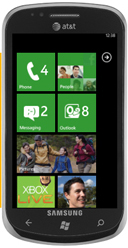 what people care about most. Windows Phone 7 will be available in a variety of sleek form factors from device-makers such as Dell, HTC Corp., LG and Samsung, and from mobile operators including América Móvil, AT&T, Deutsche Telekom AG, Movistar, O2, Orange, SFR, SingTel, Telstra, TELUS, T-Mobile USA and Vodafone. All Windows Phone 7 phones will include the high-performance Snapdragon™ processor from Qualcomm. A broad selection of phones will begin shipping in holiday 2010 with more arriving in 2011, including phones from Sprint and Verizon Wireless. In addition, select models will be available at Microsoft Store locations and from Amazon.
Windows Phone 7, Glance and Go
In today's busy world we are spending more time heads-down on our phones than interacting with the people we're sitting next to and missing out on important life moments. Windows Phone 7 was designed to deliver a mobile experience that has the phone working better for people, bringing together the things they care about most and helping them to get things done faster.
Windows Phone 7 breaks the current smartphone convention to help people quickly and easily find and consume data, information and services from the Web and applications. The new phones are distinguished by unique design and integrated experiences built from Microsoft's deep portfolio such as Xbox LIVE, Microsoft Office Mobile, Zune, Windows Live, Bing and more.
For example, the customizable Start screen with Live Tiles is a personal experience, showing people their own content. The Live Tiles come to life with real-time updates from the Web such as news, appointments or the status of friends. New Live Tiles can be easily created from whatever content a consumer wants, such as applications, websites and music.
Fueling New Experiences
Windows Phone 7 marks a new era in mobile gaming as the first phone1 to put the power of Xbox LIVE into the palm of people's hands with a blockbuster lineup of game titles from award-winning publishers. In addition to the titles already announced earlier this year, Electronic Arts Inc. (EA) today announced the first wave of EA games coming to Windows Phone 7 this fall. As part of Microsoft's managed portfolio of Xbox LIVE titles, all EA games for Windows Phone 7 will be Xbox LIVE-enabled. EA will deliver a portfolio of titles that offers something for every mobile gamer, from casual to core, including "Need for Speed™ Undercover," "Tetris®" and "The Sims™ 3."
Windows Phone 7 is also the first to offer the Zune music experience on a phone: People can play their music collection, synced wirelessly from their PC, or stream or download new tunes from Windows Marketplace. An optional Zune Pass subscription is available.
Search is made easier with a dedicated button to help people find what they need, whether in contacts, in Marketplace, in e-mail or on the Web. From the Start screen, the Search button delivers Bing for mobile, delivering Web results, local information, maps, directions and more.
The Windows Live solution helps people manage pictures, Windows Live calendar, Office OneNote Mobile and more. The free Find My Phone service new on Windows Live can remotely ring, lock, erase and show the location of your phone on a map. Complete information about Windows Phone 7 features and capabilities can be found at https://www.windowsphone.com.
New Windows Phones
The following devices will come to North America, Europe and Asia Pacific in the holiday 2010 timeframe.
In North America:
 AT&T
| | |
| --- | --- |
| • | HTC Surround, United States |
| • | Samsung Focus, United States |
| • | LG Quantum, United States |
T-Mobile USA
| | |
| --- | --- |
| • | HTC HD7, United States |
| • | Dell Venue Pro, United States |
TELUS
| | |
| --- | --- |
| • | HTC 7 Surround, Canada |
| • | LG Optimus 7, Canada |
América Móvil
In Europe:
 O2
| | |
| --- | --- |
| • | HTC HD7, United Kingdom, Germany |
Orange
| | |
| --- | --- |
| • | HTC 7 Mozart, including France, United Kingdom |
| • | Samsung OMNIA 7, including France, United Kingdom |
SFR
| | |
| --- | --- |
| • | HTC 7 Trophy, France |
| • | Samsung OMNIA 7, France |
Movistar
| | |
| --- | --- |
| • | LG Optimus 7, Spain |
| • | HTC HD7, Spain |
| • | Samsung OMNIA 7, Spain |
Deutsche Telekom AG
| | |
| --- | --- |
| • | HTC 7 Mozart, Germany |
| • | Samsung OMNIA 7, Germany |
Vodafone
| | |
| --- | --- |
| • | HTC 7 Trophy, including Germany, Spain, United Kingdom |
| • | LG Optimus 7, including Germany, Italy, Spain, United Kingdom |
 In Asia Pacific:
 SingTel
| | |
| --- | --- |
| • | HTC HD 7, Singapore |
| • | LG Optimus 7, Singapore |
Telstra
| | |
| --- | --- |
| • | HTC 7 Mozart, Australia |
| • | LG Optimus 7Q, Australia |
Vodafone
| | |
| --- | --- |
| • | HTC 7 Trophy, including Australia |
 *Source: Microsoft
(Visited 25 times, 1 visits today)