*Customers Can Try Apps Before They Buy with New Test Drive Feature*
*Angry Birds Rio for Android Available Exclusively in the Amazon Appstore–Free for a Limited Time*
SEATTLE, Mar 22, 2011 (BUSINESS WIRE) — Amazon.com, Inc. today announced the launch of the Amazon Appstore for Android at www.amazon.com/appstore. Customers can now find, discover – test! – and buy Android apps using the convenient shopping experience that Amazon customers know and love. An innovative new feature called "Test Drive" will enable customers to test apps on a simulated Android phone. Customers control the app through their computer using a mouse. 
"Test Drive lets customers truly experience an app before they commit to buying. It is a unique, new way to shop for apps," says Paul Ryder, vice president of electronics for Amazon.com. "Our customers have told us that the sheer number of apps available can make it hard to find apps that are high quality and relevant to them. We've spent years developing innovative features that help customers discover relevant products. By applying these features – plus new ones like Test Drive – we're aiming to give customers a refreshing app shopping experience."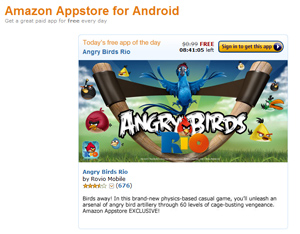 In addition, the highly anticipated Angry Birds Rio for Android debuts today, exclusively in the Amazon Appstore. For a limited time, customers have the opportunity to download it for free. In fact, the Amazon Appstore will offer customers a paid app for free every day. 
Customers can shop in the Amazon Appstore from any computer using a Web browser. They can also access the Amazon Appstore directly on their Android phones or tablets, once they've installed the Amazon Appstore application. When customers purchase an Android app from the Amazon Appstore they can use the app on any of their Android devices. 
The Amazon Appstore will include popular Amazon features like personalized recommendations, customer reviews, and 1-Click payment options. There will also be detailed product descriptions, including screenshots and video content that shows apps in action. In order to ensure customers have the best possible experience with the apps they purchase, all apps are Amazon-tested before they're made available in the Amazon Appstore. 
For the first time ever on the Android platform, ad-free versions of Angry Birds and Angry Birds Seasons will launch today exclusively in the Amazon Appstore. The Amazon Appstore also features a selection of bestselling and new apps from top developers, including Pac-Man, Doodle Jump Deluxe, Evernote, WeatherBug Elite, Zagat to Go, TweetCaster Pro and more. 
"The Android platform's openness provides a great opportunity to reach new customers," said Mikael Hed, CEO of Rovio, the maker of Angry Birds. "We are thrilled to offer the Angry Birds suite of Android games using the easy and trusted shopping experience that Amazon is known for." 
Developed in conjunction with Twentieth Century Fox, Angry Birds Rio features the animated stars of the studio's upcoming motion picture, RIO, debuting in theaters worldwide on April 15. Angry Birds Rio will launch with 60 dedicated levels, with more content to follow via app updates. 
Visit www.amazon.com/appstore today to get Angry Birds Rio for free and browse thousands of apps at great prices. 
*Source: Amazon.com
(Visited 33 times, 1 visits today)