ARMONK, N.Y., – 06 Oct 2010: Through Unica, IBM (NYSE: IBM) is acquiring enterprise and cloud-based marketing software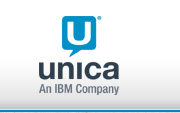 solutions that help businesses streamline and automate marketing processes, and understand and predict customer preferences. Through both the Unica and Coremetrics acquisitions, IBM will enable its clients to develop more relevant and targeted communications while minimizing marketing expenditures. 
In today's highly interconnected global business environment, customer insight is a top priority for organizations in all industries.  Among the highest performing companies globally, 95 percent say that getting closer to the customer is key to achieving their business goals, according to a recent IBM study of 1,500 CEOs.  In order to deliver on this priority, businesses must gain a deeper understanding of customer behaviors and preferences, which they can then use to create more effective and relevant marketing communications and customer experiences.  
Unica has helped more than 1,500 organizations around the world to better analyze customer preferences and trends, predict customer buying needs and execute and measure relevant cross-channel marketing campaigns.  Among Unica's client roster are industry leaders such as Best Buy, eBay, ING, InterContinental Hotels Group, Monster, and US Cellular.  
"The market has been responding very favorably since IBM announced its intent to acquire Unica in August," said Yuchun Lee, CEO of Unica. "Over the past year, Unica added nearly 450 customers, including many industry leaders like Air France, Autodesk, Hilton Hotels, O2, Qualcomm, and United Airlines." 
"IBM is committed to helping CMOs address the challenges facing marketing organizations today," said Craig Hayman, general manager, IBM Industry Solutions Group. "Together, the Unica and Coremetrics acquisitions help deliver the customer insight our clients demand, along with the measurable results they are seeking across sales channels.  We will support the Web analytics investments Unica and Coremetrics customers have made by delivering industry-leading Web analytics capabilities for line-of-business users and analysts both on-premises and in cloud environments." 
Together with IBM's WebSphere Commerce software, the company's recent acquisitions of Sterling Commerce, Coremetrics, and now Unica enhance its ability to offer the technologies marketing organizations need to streamline, automate, and optimize mission-critical business processes.  These processes include awareness and demand generation, sales process automation, order processing and fulfillment.
With the closing of this acquisition, approximately 500 Unica employees join IBM's Software Solutions Group.  
About Unica
Unica Corporation (Nasdaq: UNCA) is the recognized leader in marketing software solutions. Unica's advanced set of enterprise marketing management and on-demand marketing solutions empowers organizations and individuals to turn their passion for marketing into valuable customer relationships and more profitable, timely, and measurable business outcomes. These solutions integrate and streamline all aspects of online and offline marketing. Unica's unique interactive marketing approach incorporates customer analytics and Web analytics, centralized decisioning, cross-channel execution, and integrated marketing operations. More than 1,500 organizations worldwide depend on Unica for their marketing management solutions.
Unica is headquartered in Waltham, Massachusetts with offices around the globe. For more information, visit www.unica.com.  
*Source: IBM
(Visited 20 times, 1 visits today)