University of Colorado at Boulder Professor Douglas R. Seals has amassed scientific evidence indicating that exercise, weight loss,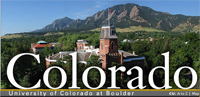 good nutrition and salt restriction can cut your chances of getting cardiovascular disease, the United States' No. 1 killer.
But Seals knows that exhorting people to exercise and lose weight, no matter how well the case is buttressed with data, will only go so far. So Seals' laboratory has begun researching "nutraceuticals," food extracts or vitamin supplements that could mimic the effects of a healthful lifestyle.
"Let's face it. Despite our best efforts, some people are not going to exercise or improve their diet," he observes, "but they might take a pill."
Seals is an integrative physiologist and a professor of distinction in the College of Arts and Sciences at CU-Boulder. Much of his research has helped scientists and physicians understand why cardiovascular diseases are worse among sedentary, overweight and older adults.
Seals emphasizes that his laboratory continues to study exercise and other behavioral changes.
As people age, their large arteries tend to become less elastic and this stiffening increases their risk of developing hypertension, stroke and heart disease. Smaller arteries also exhibit progressively less ability to dilate. Older adults tend to have about half of the dilation capacity of young adults and this, too, is associated with higher rates of cardiovascular disease.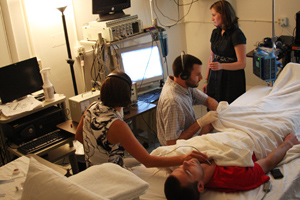 About the image: Workers in CU-Boulder Professor Douglas Seals' Integrative Physiology of Aging Laboratory monitor a human subject who is being tested for arterial elasticity. Clockwise from left: doctoral student Ashley Walker, postdoctoral fellow Brad Fleenor, research assistant Molly Russell and test subject Kevin Strickfaden. Image credit: Photo by Noah Larsen
Seals and others have identified four paths to better arterial aging: exercise, weight loss, lower salt intake and lower levels of LDL or "bad" cholesterol.
Seals' lab has researched lifestyle interventions — including better diet, more exercise and weight control — that may well break the link between the dysfunction of arteries and the development of cardiovascular disease.
Seals is careful to note the importance of further study, and better understanding, of lifestyle changes to improve human cardiovascular health. "No one disputes that it's important work … when you can get people to adhere to it," he said. "But if you can't, it doesn't matter that you've shown that arterial function improves with exercise."
That's why Seals' lab is expanding its focus to include nontraditional pharmacological strategies. These strategies are called nutraceuticals, which are diet-based pharmaceuticals.
Of hundreds of potential compounds the Seals lab could study, it has chosen to focus on a few of the most promising substances.
One is vitamin D. In recent years, several studies have found evidence that vitamin D may slow the aging process. In one experiment, scientists in Britain found that adults with the lowest levels of vitamin D showed higher rates of biological aging. Another study,also from Europe, found evidence that higher levels of vitamin D were associated with better functioning of the brain.
Seals is beginning similar studies on the effect of vitamin D on cardiovascular health in middle-aged and older adults.
Another nutraceutical receiving a lot of attention is resveratrol, a compound found in the skin of red grapes andother plants. The compound is found in red wine, though in low doses it is generally not thought to be therapeutic. Seals' laboratory is testing a new experimental agent that represents a more concentrated form of resveratrol.
Typically, Seals notes, nutraceuticals can reduce inflammation or oxidative stress. "If we can prove that one or more of these compounds is effective, then the question is, 'What is their mechanism of action?' "
Curcumin, the active ingredient in the curry spice turmeric, is a third nutraceutical the Seals lab is studying. Recent investigations on curcumin have shown powerful anti-inflammatory effects in other tissues, and Seals is expecting to find similar benefits for reversing arterial aging.
One aim of these experiments is to see if nutraceuticals can "mimic" the positive effects of exercise, calorie restriction/weight loss and a healthful diet. There are many more potential anti-aging compounds than the lab could ever hope to study, Seals notes. "It becomes a process of not just trying to identify promising agents, but trying to figure out which of a large number of intriguing candidates to assess."
For more on this story see Colorado Arts and Sciences Magazine at artsandsciences.colorado.edu/magazine .
*Source: University of Colorado at Boulder
(Visited 22 times, 1 visits today)