DATES: Oct. 1, 2010-Jan. 23, 2011 and Feb. 4-May 29, 2011.
EVENT: "Vaults of Heaven: Visions of Byzantium" features a two-part series of ultra-large-scale photographs, many over six feet tall, by Turkish photographer Ahmet Ertug.
Focusing on paintings, mosaics and architecture of the Byzantine world (sixth–14th centuries), the photos provide a journey through such venerated sites as Istanbul's Hagia Sophia and Church of Christ in Chora, as well as churches in the Cappadocia region of central Turkey, an area known for hidden Christian retreats hewn out of the region's unusual volcanic rock formations.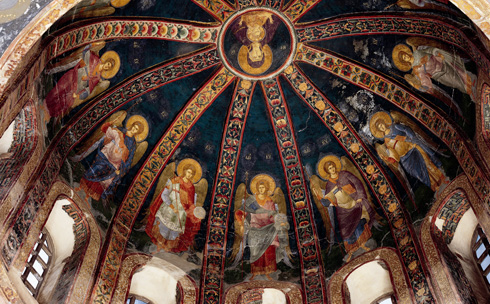 About the image: Church of Christ of Chora, (Kariye Camii), Istanbul. 11th-12th century, restored 1316, Parakklesion, west bay, dome. Detail: The Virgin and Child with images of saints in court costume. Image credit: Ahmet Ertug
Trained as an architect, Ertug combines a deep understanding of Byzantine history and culture with an artist's eye. His photographs capture the mystery and power of these ancient sites, offering viewers intimate views of the great domes, expansive structural details, and exquisite mosaics and paintings of these sacred spaces.
Accompanying the photographs are objects from the Kelsey Museum's collections of Byzantine and Islamic material, including gold coins, manuscripts pages, small carvings, pottery and wooden architectural fragments.
PLACE: Kelsey Museum of Archeology, 434 S. State Street, Ann Arbor.
INFORMATION: (734)-764-9304 or https://www.lsa.umich.edu/kelsey/
*Source: University of Michigan
(Visited 48 times, 1 visits today)