SEATTLE, Sep 17, 2010 (BUSINESS WIRE) — Amazon.com, Inc. (NASDAQ: AMZN) today unveiled Amazon Motion Gaming 101 (www.amazon.com/motiongaming101), a new section in its video game store designed to introduce both game enthusiasts and casual gamers to new choices in motion-gaming technology, which use a player's body movements and gestures to play games. The site focuses on providing simple, easy-to-find information about motion-sensitive gaming, including educational videos, customized game recommendations, customer reviews, buying guides and gift suggestions.
Amazon Motion Gaming 101 will also offer exclusive videos from the major console manufacturers. The videos include never-before-seen interviews with developers, producers and players discussing the vision behind each console, its unique features and their personal gaming experiences.
"Our goal with Motion Gaming 101 is to eliminate some of the guesswork when it comes to choosing a console for motion gaming, and if you already own a console, to choose the right accessories and games available for your system," said Paul Ryder, vice president of consumer electronics and video games at Amazon.com. "Customers can learn from our expert content and from other customers in our discussion forums before making a purchase decision. We will continue to expand and evolve the site as new games and game-related content are released."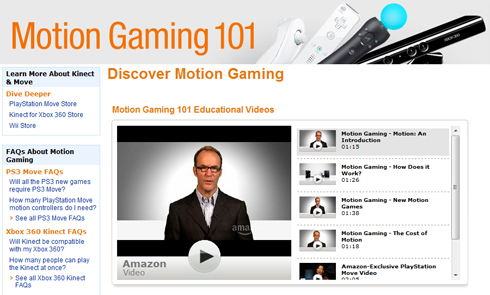 Key features of Motion Gaming 101 will include:
Video tutorials highlighting features of each motion-gaming console including "why buy," controller differences, exclusive game offerings and information about the most popular games currently available.

Game demonstrations and recommendations to help customers discover games based on the type of game play that best fits their interests.

A buying guide to help customers get everything they need to enjoy their console from day one.
Customers can find Motion Gaming 101 at www.amazon.com/motiongaming101.
*Source: Amazon.com
(Visited 22 times, 1 visits today)