SUNNYVALE, Calif. & IRVINE, Calif., Sep 15, 2010 (BUSINESS WIRE) — Yahoo! (NASDAQ: YHOO) and Toshiba America Information Systems, Inc. today announced that Yahoo! Connected TV is now available on several new models of Toshiba 46″-55″ HDTVs, including the WX800 Cinema Series(R) 3D LED. For the first time on Toshiba HDTVs, consumers will be able to access Yahoo! Connected TV to easily interact with high-quality Internet content and services while they watch TV.
"Yahoo! is reaching consumers wherever they view content — on mobile devices, PCs, tablets, and TV — and partnering with Toshiba enables us to deliver a rich variety of Internet content to the living rooms of millions more people," said Ron Jacoby, vice president, Connected TV, Yahoo! Inc. "With worldwide sales of all Internet-enabled TVs expected to rise to more than 87 million units by 2013 1, Yahoo! is focused on expanding the reach of Yahoo! Connected TV and ensuring the best Internet-connected TV experience for our consumers, publishers, and developers."
"Toshiba is dedicated to developing a brand of televisions that truly enrich the viewing experience," said Ron Smith, vice president of marketing, Toshiba America Information Systems, Inc., Digital Products Division. "By partnering with Yahoo!, the proven leader in delivering compelling Internet content directly to TV screens, we are able to provide consumers with features that enable them to enjoy a variety of entertainment content directly from their remote."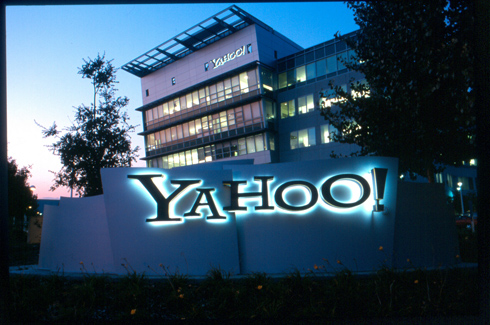 Image credit: Yahoo!
Toshiba's premiere Cinema Series line provides the ultimate in picture quality and multimedia connectivity, including an integrated Yahoo! Connected TV experience. The WX800 Cinema Series 3D LED, boasts an ultra-slim depth of less than 1.2 inches and a new flush-front design with sleek chrome trim. The VX700 Cinema Series LED is for home theater enthusiasts who are looking for unique features and convenient access to streaming content and services.
With more than 65 Yahoo! TV Widgets and thousands of content sources available at the click of a button, consumers have direct access to over 50,000 movies and TV shows and thousands of entertainment sources on demand. Consumers can access the latest movies on Blockbuster(R), vote on and stream free TV show episodes from Showtime, browse the latest news from CBS; get up-to-date sports scores on USA Today(R); listen to music on Pandora(R); shop on eBay(R); play games; or keep up with their friends on Twitter(R) and Facebook(R)— all while watching TV.*
The Internet revolution will be televised(TM) as consumers use Yahoo! Connected TV to easily interact with Internet content and services to complement and enhance the traditional TV viewing experience.
Yahoo!'s publicly available Widget Development Kit (WDK) enables anyone to create a TV widget and broadcast content and services to millions of consumers around the world. Yahoo!'s unmatched scale and exposure to new audiences ensure that content developers and publishers have a vast opportunity to create widgets for Yahoo! Connected TV.
1 iSuppli, February, 2010
*Source: Yahoo!
(Visited 18 times, 1 visits today)