*First Program Launch From the Electus-Yahoo! Partnership
The Initiative, Created by Notional in Partnership With Electus, Introduces a New Creative Format and Taps Into America's Interest in Dance; Available on Yahoo! Music*

 
SUNNYVALE, Calif., Sep 29, 2010 (BUSINESS WIRE) — Yahoo! (NASDAQ:YHOO) and Electus, an operating business of IAC (Nasdaq:IACI), today unveiled the first integrated content initiative of the brands' previously announced content partnership, bringing a new format of original, branded entertainment programming to the web with "Ready, Set, Dance!"
Merging the candid camera phenomenon with reality television for digital distribution, the program, which was created by Notional in partnership with Electus, aims to tap into the pop culture interest in television dance shows and dance videos on the Web and will make its premiere debut on Yahoo! Music today. "Ready, Set, Dance!" extends the State Farm(R) "Why Agent?" brand campaign and creatively engages its young-adult audience. Electus will have overall distribution rights on "Ready, Set, Dance!" for all platforms including television, motion picture and digital.
"Ready, Set, Dance!" (readysetdance.yahoo.com) is a 12-episode program that combines Yahoo!'s reach and consumer insights with Electus's creative expertise to provide Yahoo! Music's audience with a quick, smart, and high-energy dance competition series. Hosted by pop star Adrienne Bailon, "Ready, Set, Dance!" will live on Yahoo! Music and will be promoted across the Yahoo! network. State Farm will be seamlessly integrated into the "Ready, Set, Dance!" experience, with a goal of reaching a young-adult audience through fun and interesting content that drives home State Farm's brand message.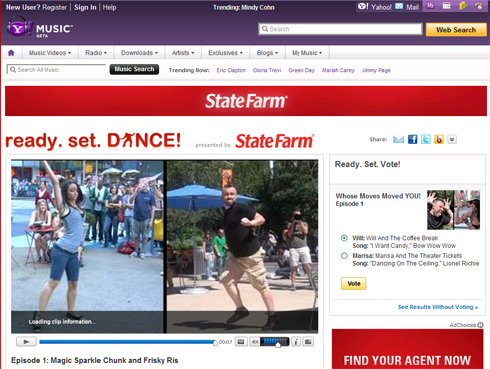 The show features two contestants who will be selected by a series of entertaining auditions. Once chosen, the contestants will be caught by surprise anytime or anyplace, and must immediately break into their dance routines for a chance at "Ready, Set, Dance!" fame and fortune. Each week, viewers can vote on their favorite dancer, and winners will receive $10,000 in each of the six dance contests. "'Ready, Set, Dance!' showcases the best of online marketing and programming by providing relevant and entertaining branded programming at mass scale," said Jimmy Pitaro, vice president of media at Yahoo!. "Our ongoing relationship with Electus will not only offer great original programming like this for Yahoo! users, but will also give advertisers like State Farm fresh opportunities to integrate their brand into the next generation of digital programming."
"We are excited to collaborate with Yahoo! and State Farm on this new format," said Drew Buckley, Chief Operating Officer of Electus. "Yahoo! is known for executing extremely successful branded programming that consumers and advertisers love, and 'Ready, Set, Dance!' will look to expand upon that initiative."
"Yahoo! Music and Electus brought a great concept in 'Ready…Set…Dance!!'" said Tim Van Hoof, Advertising Director at State Farm. "Understanding the popularity of dance contests among our target audience, State Farm sees this as an innovative opportunity to connect with young adults in the online space in a fun, engaging way."
Yahoo! has a long history of partnering with marketers to develop custom programs to help them reach their targeted audiences. Yahoo!'s successes in the original programming and branded entertainment space include: "Primetime in No Time," the most watched original program online; "Tech Ticker," the most watched finance show online; and "Who Knew?", which recently became the most successful original program to launch on Yahoo!, with more than 40 million streams in the first four months. "Ready, Set, Dance!" follows State Farm's first video series partnership with Yahoo! — "Spotlight to Nightlight" — which launched in 2009 and garnered more than 7.2 million video streams.
About Electus
Electus is the first integrated multimedia company to unite producers, creators, advertisers, and distributors under one roof and produce all forms of content for distribution across a variety of platforms around the world. Headed by Ben Silverman, in partnership with IAC, the company will connect advertisers, distributors, and content creators early on in the development process, enabling marketers and advertisers to be a true partner in campaigns and content creation.
About IAC
IAC operates more than 50 leading and diversified Internet businesses across 30 countries… our mission is to harness the power of interactivity to make daily life easier and more productive for people all over the world. To view a full list of the companies of IAC please visit our website at www.iac.com.
About State Farm(R)
State Farm insures more cars and homes than any other insurer in the U.S., is the leading insurer of watercraft and is also a leading insurer in Canada. Our 17,800 agents and more than 68,000 employees serve 81 million policies and accounts – more than 79 million auto, fire, life and health policies in the United States and Canada, and nearly 2 million bank accounts. State Farm Mutual Automobile Insurance Company is the parent of the State Farm family of companies. State Farm is ranked No. 34 on the Fortune 500 list of largest companies. For more information, please visit statefarm.com(R) or in Canada statefarm.ca(R).
*Source: Yahoo!
(Visited 78 times, 1 visits today)