*The phone delivers a new user experience by integrating the things users really want to do, creating a balance between getting work done and having fun.*
Editor's note – Oct. 11, 2010 – information regarding the initial availability of Windows Phone 7 in the U.S. has been updated.
REDMOND, Wash. – Oct. 11, 2010 – The goal for Microsoft's latest smartphone is an ambitious one: to deliver a phone that truly integrates the things people really want to do, puts those things right in front of them, and either lets them get finished quickly or immerses them in the experience they were seeking.
"When you first get the phone, the stuff that's more obvious makes you smile," says Andy Lees, Microsoft's Mobile Communications Business president. On the phone's Start screen, "live tiles" show users real-time content, such as social media updates and contacts. "The features sort of scream out at you," says Lees. "But the other thing that is even deeper for me is the elegance of the experience, which you only appreciate if you've used the phone for some time."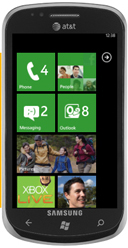 The result is Windows Phone 7, which will make its debut in some European markets on Oct. 21 and in the U.S. Nov. 8. The phone uses an elegant operating system that is very different from the current trend toward app-focused phones. Instead it provides active and configurable interface elements called tiles that update on the fly with real information, allowing users to place the tiles that interest them most where they want on their Start screen. Facebook photos, music and contacts are pulled into the phone and distributed appropriately across Hubs. It also brings together many of Microsoft's popular offerings from other platforms, including Xbox, Zune, Office and Bing.
The new phone is an important step for Microsoft in three ways. To begin, it is a completely fresh start for Microsoft in smartphones. Second, it represents a new approach from Microsoft toward integrating products and services from across the company into the phone to create a richer experience and greater productivity. Hence the presence of Office, Zune and Xbox LIVE and their integration within the Hub model. And finally, the new phone approach is critical to Microsoft's efforts to make new gains in the huge smartphone market, which despite the success of the iPhone and Android is still relatively untapped globally.
As people use their phones, they'll discover lots of thoughtfully designed features and perks. Holding down the camera shutter button, for example, lets the user take a picture even if the phone is locked – as Lees says, "unlocking your phone can sometimes mean the difference between missing the moment or not."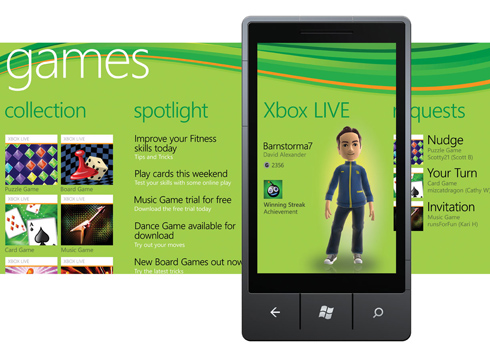 About the image: More than just a games folder, the Games Hub is a centralized place for accessing games, finding new ones and connecting with friends. It extends the Xbox LIVE social gaming experience and delivers a mobile gaming experience users can only get on Windows Phone 7. Image credit: Microsoft
The phone's interface features Hubs for categories such as People, Music and video, Photos, Games and Office. These Hubs are never more than a few screens away, no matter how deep the user navigates within the phone. The People Hub, for example, pulls in Facebook status updates from friends as well as providing the more obvious contact information and phone numbers. Users can take actions like responding to updates or sending a text message right from the People Hub rather than having to find and launch a particular app. The Hubs also update live, pulling in pictures and information so that in many cases a glance and a couple of clicks will be all that users need to bring themselves up to date with phone messages, e-mail and what is happening with friends and colleagues.
"We think people want to get updates from their social networks, they want to get contact information, they want to get e-mails from a variety of different places, they want to share music — but they want control over it," says Lees.
Plus, says Lees, "They want one thing that they can access their work e-mail on and then put in their bag and go to the party, and they want it to be easy to use. That's exactly what we're delivering."
Applications will be available for the phone as well via a Hub called the Marketplace. But, unlike other smartphones, they won't be required for the majority of everyday tasks.
Smartphones are increasingly a part of our lives. It is incredibly seductive to be constantly connected, to be able to communicate with and interact with friends and associates at any time. Or to be able to dive into the sea of information on the Internet at any time. But the current smartphone designs aren't helping. People either take too long to find what they need on their phones or they get distracted and drawn in to unproductive activities simply because they have to click in and open apps to see things.
To highlight the problem, the company is launching a provocative advertising and marketing campaign, showing how Microsoft's new phone is different. The new Windows Phone 7 is designed to help users connect with the people and information they care about most, then let them return to the real world as fast as possible.
Terry Myerson, corporate vice president of Windows Phone engineering at Microsoft, led the development group for the new phone. "We had this list of things we knew we wanted – e-mail, a browser, games, a music player," says Myerson. The team knew that they wanted the phone to be versatile and deliver exactly what the customer wanted out of a phone. But its greatest asset is something less tangible than a single feature or access to a program. "Using this phone is truly a delightful experience," says Myerson.
Creating this ease of use was one of the design team's primary goals. "We talked a lot about smart design when we talked about this phone," says Joe Belfiore, corporate vice president of Windows Phone program management. Belfiore joined the project shortly after Myerson and oversaw, among other things, user experience. "We wanted this phone to be able to anticipate what you want and give it to you before you ask for it."
New phones in a variety of hardware designs will be available from Samsung, HTC, LG and Dell.
Microsoft is so committed to the new phone that it has arranged for every full-time employee worldwide to be able to switch to the new phone as soon as it launches in their market. And while executives say they are thrilled with the final product, they also acknowledge there is a lot more to be done. When the phone is released, they plan to enjoy the moment – but not for long. "There's so much more of Microsoft we've got to bring out in the phone," says Myerson. "We've got a lot of work to do."
*Source: Microsoft
(Visited 15 times, 1 visits today)