REDMOND, Wash. — Sept. 16, 2010 — On Saturday, Sept. 18, some of the nation's most accomplished and awe-inspiring kids will be descending on the Microsoft campus. The roster includes a 14-year-old mountaineer who has climbed some of the tallest summits in the world including Mt. Everest, Mt. Kilimanjaro and Mt. Kosciuszko; three girls who started a nonprofit after a friend died of a rare form of cancer and have to date raised $250,000; and a 12-year-old environmental activist who has worked closely with Al Gore to raise awareness about global warming.
The reason for this gathering of all-stars is a conference called TEDxRedmond. The one-day event will feature over a dozen young presenters. Some will perform music and theater, others will speak on topics including environmental policy, educational reform and inspiring creativity. Over 500 kids, mostly from the Washington state area, are signed up to attend the conference.
TEDxRedmond advertises the event as "organized by kids, for kids." It's true that there is a committee of kids that has been working for months on the project, but there is one, very inventive 12 year-old girl who is the driving force behind the project. "When I first began organizing this event, I thought it would be hard," says Adora Svitak. "Kids don't really speak for a living, so they're not as findable as adult speakers." Turns out, she says, the lack of forums for kids to speak in made it much easier to find these kids. "As soon as we contacted them, a lot of them jumped at the opportunity."
Inspiration came to Svitak when she spoke at a similar event that was designed for adults. TED is a nonprofit organization that hosts conferences and websites designed to "bring together the world's most fascinating thinkers and doers, who are challenged to give the talk of their lives." At a TED conference in February, Svitak was the only kid speaker. She gave a talk titled "What Adults Can Learn from Kids." "I really wanted to see a platform like that just for kids," Svitak explains. "I wanted to give other youth an opportunity to have their voices heard."
So she proposed the all-kid conference to the TED organizers, who were receptive. Svitak's father works at Microsoft, "testing software for the Windows Phone," as she explains, so the Microsoft campus was a natural place to host the event. The TEDxRedmond planning committee includes Svitak's sister, Adrianna Svitak, as well as four other kids.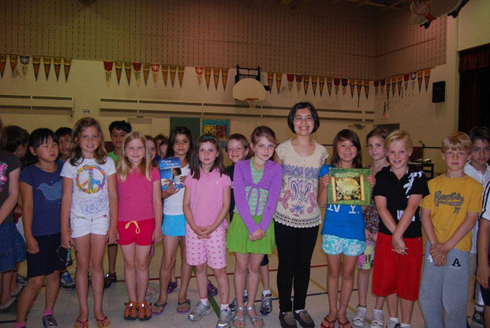 About the image: Thirteen-year-old Adora Svitak is often referred to as the world's "youngest teacher." She teaches reading and writing through an online classroom, and her lessons are viewed by students in countries including Canada, Dubai, Costa Rica, and some rural classrooms in the United States. Image credit: Microsoft
Svitak says part of the reason she enjoyed the organizing process was that she's been able to meet so many impressive young people. Indeed, it's hard to imagine that Svitak has the opportunity to meet many kids as committed to their passions as she. She started writing when she was five and published her first book at the age of seven. Her writing includes poetry, fiction and historical essays. She is also often referred to as the world's youngest teacher. She teaches reading and writing through an online classroom, and her lessons are viewed by students in countries including Canada, Dubai, Costa Rica and some rural classrooms in the United States.
Svitak says she hopes the kids who attend the TEDxRedmond conference leave feeling more empowered. "I would love to see kids taking up issues that were important to them, whether it's something that needs fixing at their school, or an environmental program that they'd like to start. I want them to see it's OK to take action. As a kid, your voice is important. Use it."
That's a message that is repeated over and over by the kids who are presenting at this event. "I've realized that we have the power to look into our parents' and grandparents' eyes and say 'I matter,'" says Alec Loorz. Now 16 years old, Loorz has been writing and speaking about the environment since the age of 12, when he first saw Al Gore's movie "An Inconvenient Truth." "When I saw it I felt this intense call that I'd never felt before," explains Loorz. "Climate change will affect my generation more than anyone else. I know it sounds naïve, but I felt I needed to stop global warming in my lifetime."
Loorz applied to volunteer with Gore's program called The Climate Project, but was rejected because he was too young. Undeterred, he started his own community awareness programs about climate change. He was so successful over the next few years that Gore personally invited him to become a trainee. Today, Loorz regularly speaks on panels with scientists and policymakers, offering his perspective as a kind of ambassador for the youngest generation. Loorz estimates he's spoken to more than 100,000 people, and he's currently organizing a public event in Washington, D.C., scheduled to take place on Mother's Day.
At the TEDx conference, Loorz plans to talk about recent events — like the Gulf of Mexico oil spill — that have had a big environmental impact, as well as what kids can do to improve the environment. "Youth just have this sense of inspiration that is hard to define," he says. "It's almost a naivety that empowers us. When youth get excited about something they can make anything happen. We have the power to do huge things."
Fourteen-year-old Jordan Romero is an example of someone who did something huge. Last spring, Romero became the youngest person to ever climb Mt. Everest. The journey was part of his quest to climb the highest seven peaks in the world. He is training now to complete the last of these, Mt. Vincent in Australia. "The message I want to send to kids is to find their own Everest," says Romero.
All these whiz kids say their parents' support has been a critical part of their success. But many of them, like Jessica Markowitz, also say they couldn't have done it without the help of their schools. "I was really lucky to go to the Seattle Girls' School, where they believed in empowerment and believed in my ideas," she says.
Four years ago, Markowitz learned about the lasting effects of the genocide that took place in Rwanda in 1994. "After I heard there were kids who couldn't go to school because they didn't have parents to support them, I was really just shocked," Markowitz explained.
She decided to start a nonprofit organization to help Rwandan girls who are vulnerable as a result of genocide. She started raising money at her Bat Mitzvah. Today, she has made several trips to the country with her organization, IMPUHWE, and raised almost $25,000. The Paul Allen Foundation has pledged to match the funds once they reach their goal. "It's weird to think about it," says Markowitz. "When it started it was just a little club selling baked goods."
Parents are allowed to register and attend the event on the Microsoft campus, though they will be in a different viewing area from the kids during the conference. Svitak says she thinks adults have a lot to learn from kids. "Adults often underestimate kids' ability," Svitak said during her first TED talk. Unlike adults, she says, "We kids still dream about perfection. And that's a good thing. In many ways, our audacity to imagine helps push the boundaries of possibility."
*Source: Microsoft
(Visited 20 times, 1 visits today)