Fresh research has revealed that the papaya plant and its extracts can provide protection against cancer by slowing the growth of cancerous cells without causing harmful side effects. The discovery has been made by a University of Florida researcher in a joint project with the University of Tokyo.
The research was published in Journal of Ethnopharmacology*. University of Florida researcher, the Vietnamese Dr. Nam Dang, conducted a research project with colleagues from the University of Tokyo and their findings indicate that extracts from the papaya plant affect the regulation of the immune system. In this way, the attack on the cancerous cells does not cause harmful side effects because it acts through boosting the immune system and therefore does not have any effect upon normal cells.
Dr. Dang's research studied the application of the papaya plant for cures in patients suffering from cancer among indigenous communities in Vietnam and Australia. He then developed four strengths of extract from the papaya leaf, which when applied clinically, slowed the growth of cancerous cells in ten different types of cancer, namely those affecting the cervix, the breast, the liver, the lungs and the pancreas. The effects were visible within 24 hours.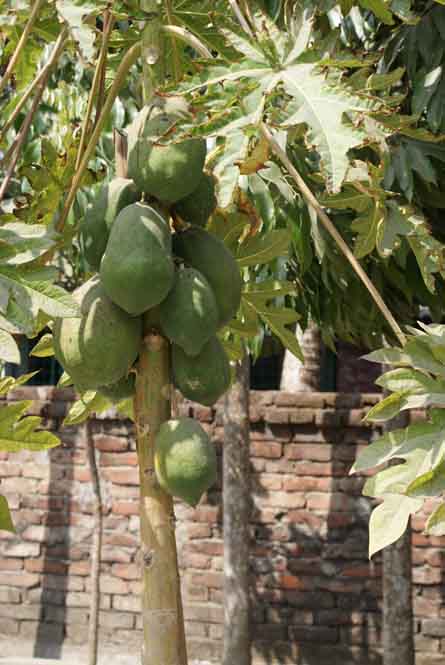 About the image above: Like many other tropical countries, papaya grows widely in Bangladesh. It's a common fruit (and vegetable) in the country. Here's a photo of papaya grown in urban area in Tangail, Bangladesh.
While the research project concentrates on the application of the papaya leaf on cancerous cases in Asia, indigenous populations in Brazil have been using the papaya leaf for thousands of years in infusions to treat ailments of the liver, including hepatitis A. The research conducted by Dr. Dang was made using dried papaya leaves.
He proved that papaya leaf extract increases the level of signalling molecules which help to regulate the immune system, attacking the cancerous cells. By boosting the Th1-type cytokines, the immune system responds to invaders while not producing toxic effects on healthy cells.
This type of treatment, according to Dr. Dang, produces results which go hand in hand with reports from indigenous communities in Australia and Vietnam.
Source: Pravda
(Visited 113 times, 1 visits today)