*Jewelry Fans Can Now Purchase from a Selection of 68 Brands and over 3500 Styles, All with Free Shipping*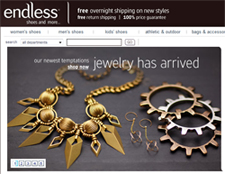 SEATTLE, Oct 27, 2010 (BUSINESS WIRE) — Endless.com (www.endless.com) today announced the launch of its new jewelry category featuring 68 brands and over 3500 styles. Customers can now purchase everything from bracelets, cuffs and rings to necklaces, earrings and pendants available in a variety of colors and styles for men and women. From gold Gorjana bangle sets to exclusive statement pieces from Devon Leigh, customers will be able to find whatever fits their style or occasion. In addition, customers will receive free shipping on all jewelry styles.
"We are so excited to launch jewelry on Endless and believe our customers will love this very diverse, in-depth and trend-driven selection of beautiful jewelry," said Jennifer Arthur, category leader, Jewelry & Watches, Endless.com and Amazon.com. "Whether it's a trend piece from CZ by Kenneth Jay Lane or a high-end timeless bauble, like an Auden or Gurhan necklace, customers will have many style options to choose from."
Endless.com offers an experience that is seamless and luxurious with a selection of unique brands to match. With an extensive online jewelry selection for women as well as men, customers will find a myriad of well-known boutique brands like Betsey Johnson and Fiona Paxton, in addition to a mix of rising young stars.
A sampling of those brands includes:
Auden, a newer brand on the scene which can best be described as downtown-meets-uptown, offers elegant yet playful pieces that feel luxurious and timeless.

Devon Leigh, who has designed a line currently available only for Endless and Amazon customers, offers a mix of natural and semi-precious stones, combined with rich metals that are classic and modern.

Mi Asunta is an artisanal collection made up of a mix of vintage jewelry and reclaimed metal, giving off a very vintage and chic feel.
Customers can also purchase jewelry styles from the recently launched Nicky Hilton Collection, currently available at Endless.com and Amazon.com. Designed by Nicky herself, this collection offers a range of styles including 36 rings, 13 necklaces and pendants and seven bracelet and bangle styles. With this comprehensive collection, customers can purchase these very trendy, yet classic styles at more affordable prices.
A convenient shopping destination that offers a rich and vibrant shopping experience, Endless.com offers free overnight shipping on new styles and free 365-day returns. Endless also makes purchasing jewelry easier with three separate viewing options, including video and Endless' hover zoom technology. In addition, Endless gives customers the ability to shop by price, style, brand and color, all at the same time or separately. Want more than just jewelry? Endless.com has over 80,000 shoe, watch, handbag, sunglasses and other key accessory styles for customers to add to their shopping basket.
Current Amazon.com customers can use their existing username and password to log in to Endless.com and begin ordering today.
About Endless.com
Endless.com, built and launched in December of 2006 by Amazon.com, is an exciting online shoe and accessories destination that provides compelling prices, selection and overall experience online. Endless is a unique store that offers customers the ability to find what they want easily and quickly, providing the ability to shop by price, style, brand and color, all at the same time or separately. Endless.com also offers free shipping, free return shipping, a 100% price match guarantee and a 365-day returns window.
*Source: Amazon.com
(Visited 24 times, 1 visits today)