*After spending a summer working in Redmond, the junior class women of Brown University's computer science department find new confidence.*

 
REDMOND, Wash. — This summer, all of the junior class women of Brown University's computer science department found themselves interning at Microsoft.

 
They can field their own baseball team, with nine women in all — a group small enough to fit around a large lunch table at The Commons, but large enough to make for vibrant conversation. But baseball isn't what these nine women all have in common – it's computer science.
Typical conversation topics amongst the interns include favorite classes and professors at Brown, ruminations of what college majors they started out pursuing (engineering, math, Greek and Latin, linguistics, neuroscience), and the impact of being part of a minority in the computer science field.

 
"I've walked into classrooms where I'm the only girl," says intern Alex Schultz, who loves languages and was a classics major until she took an introductory computer science class and "freaked out." Schultz says that language has "this inherent power because you can speak and read, but when you speak and read computer languages, you can make planes run and make Pixar movies. That's what I love."

 
Nell Elliott has been the only female in many of her classes as well. "It's sometimes kind of hard because people have higher expectations of you. And if you miss class, of course it will be noticed."

 

 

 
Elliott, whose father is a computer science professor, had planned to be a math major, which required an entry-level computer science course.
"I was like, 'Oh, this is cool! I might as well take another class, just to do it,'" Elliott says. "Then I took another and said, 'Well, I might as well go be a teaching assistant for a class.'"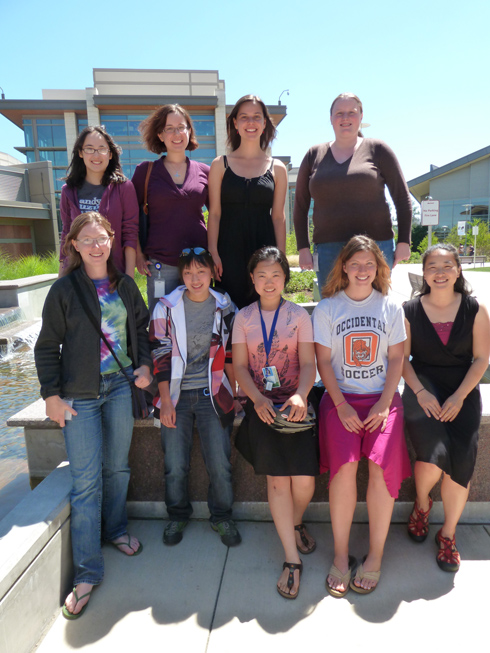 About the image: Brown University Students Intern at Microsoft. Brown University computer science students share their stories about spending their summer interning at Microsoft. Image credit: Microsoft

 
Elliott interviewed with Google and Apple for internships as well, but chose to intern at Microsoft for one major reason — she was able to meet the people she'd be working with in advance. Even if she had met her future coworkers at Apple and Google, she says it would be difficult to think she could enjoy them more than the team she ended up with at Microsoft, the Macintosh Business Unit (MacBU).

 
"I worked on real stuff," Elliott says. "My team treated me like an adult. They took me seriously. It's more like you just started working here than being an intern." She adds her team at Microsoft is relaxed, funny, and quirky, but also clearly dedicated to their work.

 
Intern Tess Avitabile said she felt the same way about her team. "I wasn't expecting people on my team to be such goofballs, and I'm so excited about it," she says. "They were able to get so much done while also having time to pull pranks, such as inserting David Hasselhoff songs into presentations. They are so competent and so silly. It was great."

 
Like Elliot, Avitabile's father is a computer science professor, and she was also thinking of becoming a math major. Then her father suggested that she take a course in functional programming languages.

 
"That was by far my favorite class I took freshman year at Brown," she says. "I fell completely in love with making these elegant, practical solutions. But I wasn't really hooked until theoretical computer science. In theory I found a topic I felt like I had a talent for. That was what got me."

 
Elliott says that she wasn't impressed by the recruiting from other large companies, but found Yin Lu, Microsoft's recruiter, engaging and invested.

 
"She knows who everyone is, is actually interested in the students she works with, and is really great about setting students up to talk to people who will be helpful and who will have insight into the specific problems or concerns a specific student has when applying for an internship or deciding among internship options," Elliott says.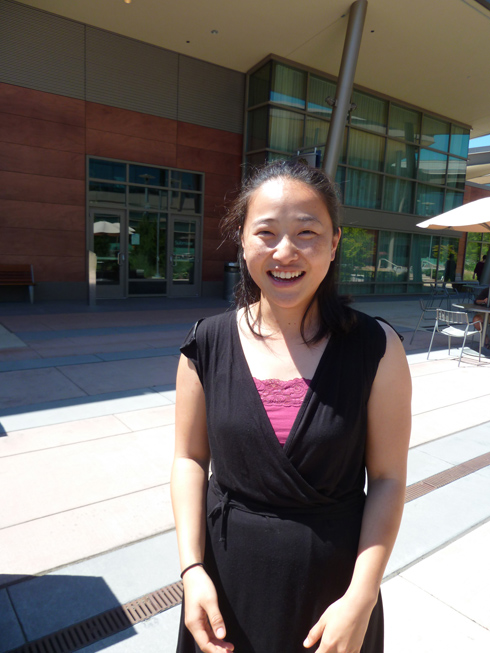 About the image: Yin Lu, Microsoft College Recruiter. Yin Lu, the recruiter who helped bring the Brown University students to Microsoft for the summer. Image credit: Microsoft

 

 
Lu's relationship building with the women at Brown made a difference. Last year, there was one female intern from Brown. The intern, Laura Parkinson, had such a good experience that she went back and helped recruit the rest of her classmates.

 
"They are extraordinary women who are going to be world changers," Lu says of the Brown women.

 
Recruiters push to find top talent for internships but also to find a diverse range of college students. "Diversity is reflected in the way we think, 'How are we smart in different ways?'" Lu says. "These interns offer such a diversity of smartness, from user experience and researching to prototyping, coding, and testing. It's not about their gender but how and why they've found their passion in pursuing computer science and what that means for the creation of software."

 
After spending a summer working in Redmond (as well as hiking, biking, barbecuing, and hanging out), the women have a clearer picture of what they want for themselves.

 
Parkinson, the two-time intern who helped recruit her classmates, is now thinking about pursuing a PhD.

 
Megan Hugdahl says her internship gave her a lot of respect for the "complexity of Microsoft products," and Lu Zeng says she has a new-found love for Visual Studio.

 
Avitabile said she had dismissed the idea of working at a technology company because she didn't think she was capable of it.

 
"My internship has been an incredible confidence booster, being able to dive in and understand complex systems and present myself as an adult to people," Avitabile says. "This summer has actually made me reconsider—it definitely seems reasonable now."

 
*Source: Microsoft
(Visited 108 times, 1 visits today)