We have now, no other way but to prepare a 'golden crown' with diamonds in it for the Microsoft CEO Steve Ballmer.

 
You may ask – Why?
Ya, he proved that he has a 'beautiful mind'.

🙂
Just think about the recently announced photo contest on the Bing Blog. Now users have an opportunity to submit their photos under the theme "summer travel". The winner will show up on Monday, 3rd of August.

 
You might already know that Microsoft's new search engine 'Bing' appears with a new photo everyday (as is the one below). The photos are gorgeous in one word. The 'rich and pleasant' photos on Bing's homepage is something like a outer expression of the inner changes in Microsoft's Redmond's office.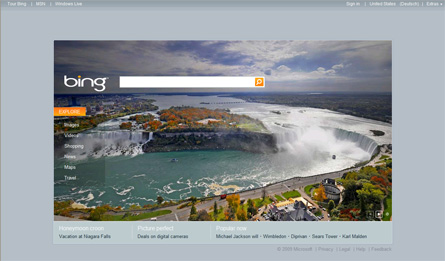 And Bing is steadily doing good, snatching search share from rival Google (as reported by several internet research firms). Now inviting its users to engage themselves to a photo contest is obviously a 'sweet idea' from the Bing's Boss. The Boss knows that users will drive there with their most beautiful photos.

 
Only a beautiful mind can admire beautiful photos. This point is enough to justify the calling of the BB's mind a 'beautiful one'.

🙂
However, before you submit the photos read the guideline carefully, which are

 
No recognizable people
No 3rd party trademarks (e.g., Mickey Mouse ears)
No objectionable content, such alcohol, smoking, guns, violence, or nudity.
That means, you should be careful having 'recognizable person' in your photo. That 'recongizable person' can some day sue Microsoft for millions, but not you (as you are a poor photographer, let's say like this to save you). And forget hips and boobs as well (unless there are some lines to make the boundaries). 😉

 So now,

 
Action…………
(Visited 27 times, 1 visits today)