*Formerly called "Project Natal," Kinect was revealed Sunday evening in a Cirque du Soleil performance on the eve of the Electronic Entertainment Expo in Los Angeles.*
LOS ANGELES – Microsoft today unveiled Kinect for Xbox 360, a controller-free gaming device that Microsoft is positioning as an entirely new way to experience entertainment in the living room.
Previously code-named "Project Natal," the Kinect label was released before the start of the Electronic Entertainment Expo in Los Angeles (E3) as part of a Cirque du Soleil performance that was inspired by Kinect's technology.
The slim black Kinect sensor plugs directly into any Xbox 360. Despite its small size, the Kinect device contains a camera, audio sensors, and motion-sensing technology that tracks 48 points of movement on the human body. It has the ability to recognize faces and voices.
With Kinect, game-players no longer need to memorize different commands for a hand-held control. "You are the controller," said Mike Delman, corporate vice president of Global Marketing for the Interactive Entertainment Business. "You simply step in front of the sensor and Kinect sees you move, hears your voice and recognizes your face."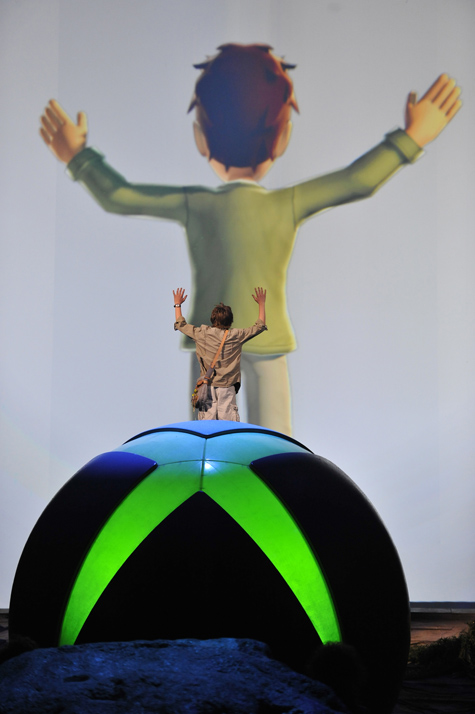 About the image above: Showing off the capabilities of the hands-free Kinect for Xbox 360 device and experience at spectacular live event at Galen Center Los Angeles, June 13, 2010. Image credit: Microsoft
The Cirque du Soleil show at Los Angeles's Galan Center included few specifics about Kinect. Instead, it focused on the new experiences that it will enable. Microsoft will share more details – including the release date, and some of Kinect's initial game and entertainment offerings – at a Monday morning news conference that will kick off E3, the gaming industry's annual show-and-tell event.
Marc Whitten, corporate vice president of Xbox LIVE, said 2010 could be the biggest year yet for Xbox. "It's an amazing year just when you look at the things people are expecting," he said. "But we're excited to also be announcing ways that make it simpler for everyone to enjoy the things we do. People who are intimidated by a controller or game pad will finally get to unlock some of the experiences that are possible in the living room, gaming and non-gaming alike."
Microsoft made a splash at E3 a year ago with a short video showing Kinect, and introducing the concept of controller-free gaming and entertainment on Xbox 360.
That video took off and subsequent demos of the technology spurred gaming followers to say Kinect could shake up the enormous (more than $10 billion a year in the United States) gaming industry.
Last January, for instance, CNET's Josh Lowensohn wrote that the then-"Project Natal" device would be a "big adrenaline shot going into the heart of the Xbox 360." After trying it out for himself last year, Gizmodo's Matt Buchanan commented on the "remarkable sense of control" and "immersion." And the U.K edition of IGN Entertainment said Kinect's "tracking of movement is astounding, the detail of the recognition even more so."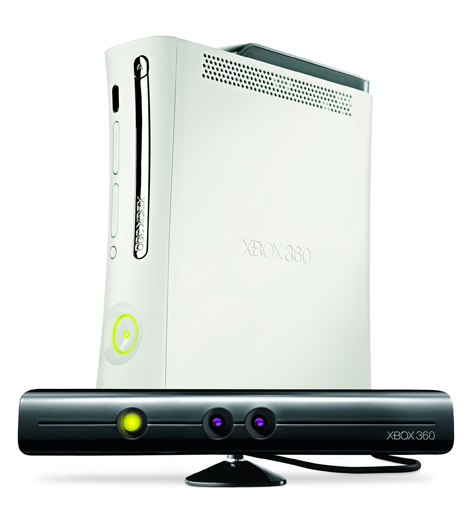 About the image above: The new Kinect controller for the Xbox 360 creates a new way to play games and interact with a computer. Image credit: Microsoft
Some of what intrigued industry experts is that Kinect can perform full-motion tracking of the human body at 30 frames per second. It isn't affected by what a user is wearing or what type of furniture is around. And it recognizes voices and faces.
Kinect was top secret until last year's E3 video was released. After the conference it once again returned to "black box" status even inside the walls of Microsoft as the Xbox team worked to move it from prototype to product.
In keeping with that secrecy, there have been just two announcements on Kinect since last year at E3 – and one of them was releasing the name Kinect on Sunday night. The other occurred earlier this year at the Consumer Electronics Show in Las Vegas, when Microsoft announced that Kinect would be in stores this holiday season.
Much more news is expected Monday, Delman said. He believes Kinect will help Xbox get closer to reaching its goal of becoming the hub of games and entertainment in every living room. But while hard-core gamers are and will remain the cornerstone of Xbox and Xbox LIVE, Microsoft wants to use Kinect to reach a broader, new audience.
There are upwards of 40 million Xbox 360 consoles on the market. Kinect could help significantly increase that number because it appeals to traditional non-gamers such as young children, mothers, and grandparents.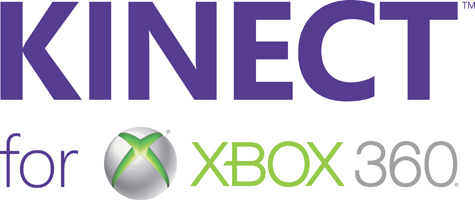 About the image above: The new Kinect for Xbox 360 logo. Image credit: Microsoft
The Sunday-night Cirque du Soleil show illustrated this concept by telling the story of a boy and his Xbox 360. He begins the show playing Xbox alone with a traditional controller, but when he and his family are introduced to Kinect, they all enjoy games and entertainment together.
"Some people don't like controllers," Delman said. "And Kinect makes the gaming and entertainment experience more organic and free-flowing, without any of the barriers that can sometimes keep people from participating."
A commercial-free version of the Cirque du Soleil show will air on U.S. television on Tuesday, June 15, at 3:30 p.m. and 9 p.m. EDT on Nickelodeon, MTV and other channels. Later in the week, video of the event will be posted on www.xbox.com.
*Special thanks to – Microsoft (Published on June 13, 2010)
(Visited 23 times, 1 visits today)