Palaeospondylus ist doch kein Schleimaal
Aktuelle Forschungsergebnisse der Paläontologin Cathrin Pfaff von der Universität Wien rücken das Verwandtschaftsverhältnis von Palaeospondylus gunni in ein neues Licht. Intensive Forschungsarbeiten an dem nur wenige Millimeter großen Fossil haben gezeigt, dass es sich um ein kiefertragendes Wirbeltier handelt, und nicht, wie zuletzt angenommen, um die Larve eines kieferlosen Fisches. Die Studie wird aktuell im Fachjournal "Royal Society of Open Science" veröffentlicht.

Vertreter von Palaeospondylus entstammen dem Mittleren Devon Schottlands und haben ein Alter von rund 390 Millionen Jahren. Keines der gefundenen Tiere hat jedoch Zähne oder einen Kiefer, wie wir ihn kennen. Daher wird die Verwandtschaft dieser Art zu anderen Tiergruppen seit seiner Erstbeschreibung im Jahre 1890 bis heute sehr kontrovers diskutiert.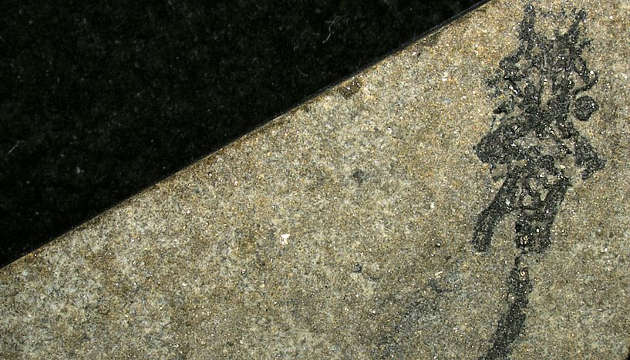 Fossiles Exemplar von "Palaeospondylus gunni". Der Kopf hat keine Kiefer und Zähne, weshalb seine Verwandtschaft zu anderen Tiergruppen auch nach über 120 Jahren kontrovers diskutiert wird (Image copyright: Cathrin Pfaff).
Palaeospondylus wurde bereits zu sämtlichen Hauptgruppen der kieferlosen und kiefertragenden Fischen, wie den Knochenfischen und Lungenfischen, sowie zu unterschiedlichsten Wirbeltiergruppen, wie den Amphibien gestellt. Auch konnte die Wissenschaft bis heute nicht klären, ob es sich um ein Larvenstadium handelt oder aber um ein erwachsenes Tier.
Die an der neuen Studie beteiligten WissenschafterInnen vom Natural History Museum London, dem King's College London, der Uppsala Universität in Schweden, der Australia National University von Canberra, der Curtin University aus Perth, der Europäischen Synchrotron Facility in Grenoble und der Universität Wien haben neben Synchrotron- und Mikro-CT-Scans auch moderne Bildanalysetechniken verwendet, um mehrere gut erhaltene Reste des fossilen Tieres Palaeospondylus gunni non-invasiv zu untersuchen.
"Wir konnten zeigen, dass zur Klärung der Verwandtschaftsverhältnisse die Ohrregion des Tieres den entscheidenden Hinweis liefert. Wir fanden gleich drei Bogengänge im Innenohr, wodurch Palaeospondylus eindeutig und zweifelsfrei den kiefertragenden Wirbeltieren zugerechnet werden muss. Bei kieferlosen Arten wie den Schleimaalen, zu denen Palaeospondylus als letztes gezählt wurde, gibt es nur einen Bogengang", erklärt Cathrin Pfaff. Durch weitere Merkmale des Schädels können die ForscherInnen sogar davon ausgehen, dass es sich um einen Stammgruppenvertreter der Knorpelfische handelt. Es bleibt abzuwarten, ob mit diesen Ergebnissen das Rätselraten um das Fossil beendet werden kann.
Publikation in "Royal Society Open Science":
Johanson, Z., Smith, M., Sanchez, S., Senden, T., Trinajstic, K., Pfaff, C.
Questioning hagfish affinities of the enigmatic Devonian vertebrate Palaeospondylus. Royal Society of Open Science 4:170214.
dx.doi.org/10.1098/rsos.170214.
*Source: Universität Wien
(Visited 13 times, 1 visits today)