*The company today rolled out the Microsoft Game Hub, which helps fans of casual games like Bejeweled play and interact socially across MSN Games, Bing Games and Windows Live Messenger.* 
REDMOND, Wash. – Nov. 15, 2010 – Solitaire doesn't have to be so solitary anymore. 
Microsoft today introduces a new gaming hub that connects its three major social gaming portals, blurring the line between casual and social gameplay, said Michael Wolf, senior marketing manager for Xbox Product Marketing.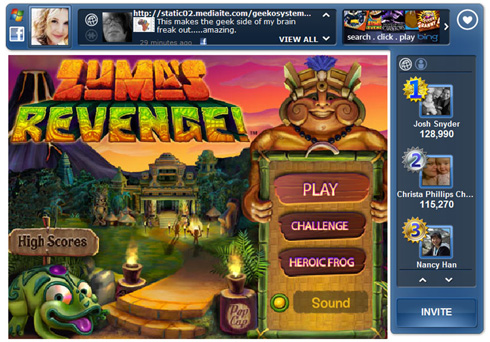 Surrounding Zuma's Revenge in the image above is the Microsoft Game Hub, where players can see information from their social networks, challenge friends, and track their favorite games, game history and scores — no matter what platform they're on. Image credit: Microsoft 
The Microsoft Game Hub is a new feature that starting today appears in a similar way on MSN Games, Bing Games and Windows Live Messenger, effectively allowing anyone who uses any one of those different sites to play the same games, see their friends' status updates, and send each other game challenges. 
"With today's announcements, we've made it easier to find and play the games you love while connecting to the people who matter most to you," Wolf said. "We're driving that experience across multiple platforms so millions of players can share their experiences with their social circles." 
In tandem with the Microsoft Game Hub, the company also today announced that the MSN Games site has been completely rebuilt, the games experience on Windows Live Messenger has been updated, and Bing Games has been expanded internationally into English-speaking markets including Australia, Canada, the United Kingdom and New Zealand.
By tying the three casual gaming sites together with the new hub, Microsoft aims to make non-hardcore gaming more social, Wolf said. Through the new hub, players can sign into their Facebook or Windows Live accounts (or both), scroll through their friends' status updates, send casual game challenge requests, view game leaderboards, save a game as a favorite to make it easier to find, and track their favorite games, game history and scores – no matter what platform they're on. 
"It doesn't matter where you play – on Messenger, on Bing, on your mobile device, or on your PC," Wolf said. "You can have that sense of connectivity and competition regardless of platform, which is something no one's ever really done before." 
Microsoft is hoping the unique offering resonates with casual gamers, who, according to the Casual Games Association, now number more than 200 million around the world. The company already has seen how wide an audience there is for new places to play casual games – since launching in June, Bing Games has already seen more than 55 million game session played to date right in the browser. 
In general, casual games refer to video games developed for the general public that are easy to learn and play, Wolf said. Unlike the hardcore gamer audience, which is typically young and male, the casual games demographic tends to be older and skewed toward women. 
That audience will find their favorite games on Microsoft's properties, Wolf said. All three portals will include a carefully chosen selection of popular and critically acclaimed games from the console, handheld, mobile, and online platforms, with new games launching regularly. Today, at launch, more than 35 titles, including hits such as Cubis 2, Super Stacker, and Plants vs. Zombies are connected and playable across MSN Games, Windows Live Messenger and Bing. 
"Typically, a lot of these games tend to be very solitary," Wolf said. He remembered when Bejeweled first came to MSN games back in 2000. On Microsoft's Redmond campus, Wolf would walk down the halls and notice printouts of people's high scores posted on doors. "People would be saying, 'beat that,'" he said. "Now, we're letting you do that with the people who matter most to you." 
Microsoft is hoping the day's announcements also resonate with game developers and publishers, said Alex Tinsman, a manager with Xbox Product Marketing. "The Microsoft Game Hub is really breaking new ground because that one wrapper instantly makes everything immediately social," she said. "What that means to publishers is that they write it once, and then publish to any location. It creates amazing opportunities they never had before." 
The Game Hub also creates a big opportunity for Microsoft, she added. Although often overshadowed by Xbox and the company's offerings for hardcore gamers, Microsoft's commitment to the casual games realm goes back a decade, Tinsman said. "The company has been innovative in casual game space for years, but the new game hub is a very significant step into creating what the future looks like across all Microsoft properties, whether PC, mobile, Messenger or Xbox LIVE, and moving into a very exciting unified front." 
*Source: Microsoft
(Visited 41 times, 1 visits today)