Microsoft's cashback program is getting more 'live' in live.com search. You can easily locate it on the upper-right corner. No need to type www.live.com/cashback
anymore.

The program pays you back a percent of money from your shopping there. It varies and depends on vendors how much you will get back. But it's a smart move by Microsoft.
While just looking for laptops, we found that the money comes back is $114. It's a lot of money. While shopping online, it's a new attraction for customers.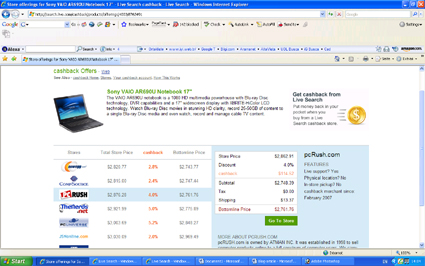 Well, Gates is clever. He is now opening some new gates for his honourable customers. 🙂 🙂 🙂
Cheers Bill & Ball 🙂 .
(Visited 18 times, 1 visits today)