The Georgia Tech Research Institute (GTRI) has created a new Cyber Technology and Information Security Laboratory (CTISL) to apply GTRI's broad expertise and systems engineering experience in cyber-related research to a broad range of information security issues.
CTISL researchers will develop cutting-edge capabilities that will allow trusted data to be sent across trusted networks to ensure effective missions for GTRI's customers. CTISL's work will focus on providing resilient command and control solutions to war fighters operating in contested environments, helping industry defend against cyber criminals, and safeguarding the nation's critical infrastructure.
"The consolidation of GTRI's key cyber researchers, programs and resources under a single umbrella of shared research objectives will be a powerful driver in the development of new cyber solutions and technologies that will have an immediate impact on the United States," said CTISL acting director Bo Rotoloni.
Rotoloni, who was previously the deputy director of GTRI's Signature Technology Laboratory, brings to the job an understanding of GTRI's existing customers and a vision for developing new cyber research areas where the laboratory can apply its expertise. To develop and deploy advanced technologies to defend and deter cyber attacks against the United States, researchers in the new laboratory will pursue opportunities in various agencies within the U.S. Departments of Defense and Homeland Security; local, state and foreign ally governments; and commercial and private entities.
CTISL will also leverage basic research from across the Georgia Institute of Technology, as part of the Georgia Tech Information Security Center (GTISC).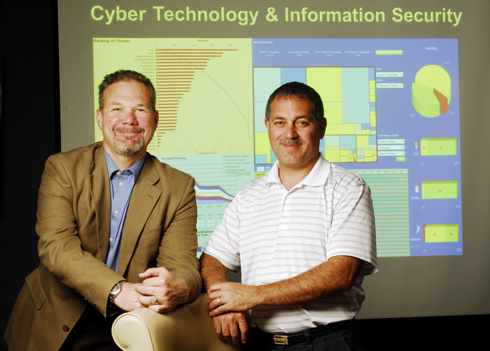 About the image: GTRI's Cyber Technology and Information Security Laboratory (CTISL) will be led by deputy director and chief engineer Fred Wright (left) and acting director Bo Rotoloni. Image credit: Georgia Tech Research Institute (GTRI)
"At GTISC, real-world impact of our research programs is very important so we are excited that our faculty and students will be able to collaborate with researchers in the new Cyber Technology and Information Security Laboratory to help create cyber security solutions that will address real problems," said GTISC director Mustaque Ahamad, who is a professor in Georgia Tech's School of Computer Science. "GTRI's expertise in developing such solutions complements our basic research and by working together, Georgia Tech will be well positioned to play a leadership role in this important field."
The new research laboratory — GTRI's eighth — will be comprised of three divisions that will pursue an aggressive strategy to provide world-class support for enduring programs and integration of cutting-edge cyber solutions, emerging technology and policy, Rotoloni said. The three divisions include secure information systems, command and control mission assurance, and network vulnerability.
Researchers in the secure information systems division design, develop and deploy enterprise information systems requiring state-of-the-art database, platform and Internet security. They are currently providing secure applications and cross-domain extensible markup language (XML) guards to the U.S. Department of Defense to enable sharing of compartmented data between networks.
In the command and control mission assurance division, GTRI researchers will design and field resilient information systems. Cutting edge technologies, including secure network enclaves, virtualization, multi-level security, and adaptive quality of service management, will be applied to construct command and control systems for combat operations.
GTRI has been involved for more than six years with the U.S. military's Deployable Joint Command and Control system (DJC2) — a self-contained, self-powered temporary headquarters facility. GTRI has been responsible for designing DJC2's information technology infrastructure since the initial prototype stage. The work has included networks, wired and wireless communications, as well as newer elements such as advanced peer-to-peer inter-networking convergence and satellite communication terminals. The GTRI team is currently developing a secure DJC2 wireless architecture, expected to become one of the few operational systems that is fully accredited for security.
The Network-Centric Test and Training System (NeTTS) was also developed by GTRI researchers for command and control mission assurance. NeTTS is a family of non-intrusive test tools for distributed, network-centric environments that support test and training through the creation of realistic virtual environments.
"NeTTS has been used by all four military services, providing support during pre-test planning, test conduct and post-test analysis of a wide variety of communication networks and systems," said Fred Wright, CTISL's deputy director and chief engineer.
In the network vulnerability division, researchers will concentrate on exploiting and reconstructing information in the form of signals, communication protocols, applications and embedded systems. The division will also support various government agencies in countering adversary information networks. Threat countermeasures span a wide range from radio-frequency jamming/denial-of-service to applied offensive computer network operations tactics.
In this research area, GTRI is developing techniques to simulate hostile intrusion attempts into networks and other critical areas, a practice called "red teaming" that uses a GTRI custom code library. Researchers have also developed a program called Spider Sense, which crawls the Internet and automatically exploits websites.  Researchers are also working with GTISC to develop and apply novel approaches to automatically identify and analyze emerging cyber threats, such as botnets.
Rotoloni noted that GTRI has been working in the information security area since the 1990s.  With this new laboratory, he says, it will continue to develop the latest technologies in signal and protocol exploitation, web crawling, malware analysis, reverse engineering of embedded systems and applications, enterprise networks, database applications, and perimeter guards.
"Our national security and way of life depend on our ability to operate effectively in the vulnerable domain of cyberspace," said Tom McDermott, interim director of GTRI. "With the creation of this new laboratory, GTRI is showing its commitment to solving our nation's most difficult challenges in cyberspace."
*Source: Georgia Tech Research Institute (GTRI)
(Visited 51 times, 1 visits today)