According to Yahoo! 2.4 billion searches are conducted every month and 47 million people use Yahoo! everyday.
That means about 80 million searches are conducted each day by these 47 million people (but not all are busy in searching). But nevertheless it's 80 million searches!!!
Now come to the point, According to Yahoo!s Today's Top Searches 'Pizza' was at the 10th place.
People are looking for cheap buying options after the Christmas as 'After Christmas Sales' tops all searches. 'iTunes' and 'Ringtones' took the 4th and 5th position. But as mentioned 'Pizza' got the 10th position.
🙂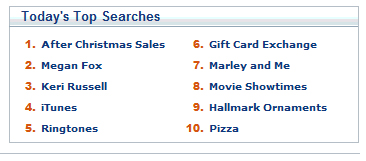 Now can you imagine of these 80 million searches by 47 million people, how many of them are looking for Pizza today?
So what conclusion we can draw?
First, obviously Pizza is the most favourite menu for lunch today?
Second, if you are looking forward to start a small business with low capital but high prospects, then Start selling Pizza online ASAP (as soon as possible). Get the things to make Pizza, get a website offering different sizes and brands of Pizza from Pizza Margherita to Pizza Pepperoni.
🙂
However, you can introduce new names or titles for your own brand. If you are Henry Johnson, you can sell your own brand 'Pizza Jonsy Henrieta', or If you are Robert Dalcamara, it's even easier – 'Dalcamara Pizza'. Just add some more Chilli (or something else) to make a difference with other hot Pizzas in the town. You will have a run.
😉
Don't forget Pizza is healthier than fast food. So it has bright future.
(Visited 34 times, 1 visits today)