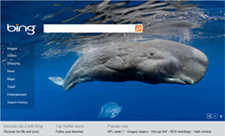 REDMOND, Wash. — Oct. 25, 2010 — Brats versus burgers; team jersey versus winter coat; early departure versus post-game party in the parking lot — all are important game-day decisions for football fans and tailgaters this time of year.
Today, Bing, the Decision Engine from Microsoft Corp. that provides football fans with everything they need to make these vital game-day choices, is introducing a new competition that will celebrate tailgating and crown the team that makes the best tailgating decisions in four key categories: cooking, sports trivia, parking lot athletics and team spirit.
The Tailgating Institute of America (TIA), led by nationally recognized Commissioner of Tailgating Joe Cahn, will host the competition. Local panels of judges will determine winners in six regional competitions, with the regional winners traveling to compete in Dallas/Fort Worth on Feb. 3 for the championship title. All competitions will take place in major football stadiums on game days in the following cities (all times local): 
| | |
| --- | --- |
| • | Houston's Reliant Stadium, Nov. 7, 9:30 a.m. |
| • | Denver's Invesco Field at Mile High, Nov. 14, 11:30 a.m. |
| • | New York/New Jersey's New Meadowlands Stadium, Nov. 21, 10:30 a.m. |
| • | Phoenix's University of Phoenix Stadium, Dec. 5, 11:30 a.m. |
| • | New Orleans' Louisiana Superdome, Dec. 12, 12:30 p.m. |
| • | Seattle's Qwest Field, Dec. 19, 10:30 a.m. |
| • | Dallas/Fort Worth's Sundance Square (Finals), Feb. 3 |
Joe Cahn, also known as "The Commish," spends all football season on the road traveling from stadium to stadium (tailgate to tailgate) and living in his custom motor home. The Commish has visited all 31 pro football stadiums and over 120 colleges, traveling over 800,000 miles and tailgating with hundreds of thousands of people in the process.
"The spirit of tailgating is all about passion and connecting people, and I've tailgated with the best of them over the past 15 years," Cahn said. "The Bing National Tailgating Championship taps into that passion in an effort to engage the most enthusiastic and skilled tailgaters from around the country and decide who should be crowned this year's best."
Beginning today, fans can apply to compete at https://www.bingfootball.com. Four tailgating crews will be selected to compete in each of the six regional markets.
"There are so many decisions that need to be made on game day — what to wear, how to get there, what to eat, where to park — and Bing helps fans make those decisions quickly so they can have more time to enjoy tailgating and football," said Danielle Tiedt, general manager for Bing at Microsoft. "Player comparisons and stats, sports trivia answers, taxicab calculators, weather, recipes, local restaurants and bars, parking-lot finders and more are at your fingertips on Bing.com or m.bing.com."
"Tailgating is all about community, and Bing truly helps foster connections among fans," Cahn added. "So let the competition begin, and we'll see you in the parking lot!"
About the Tailgating Institute of America
Founded in 1996 by the Commissioner of Tailgating, Joe Cahn, the Tailgating Institute of America has established a 14-year track record of Tailgating and consumer research excellence. Pioneering insights have helped guide consumer marketing strategy for clients such as Campbell's, Bullseye BBQ Sauce, Coca-Cola and more. The Institute will also have health studies and feature information to make your tailgating experience a healthy one. The Institute also enables students to learn from Tailgating Professors across the country about the art and science of tailgating. The Tailgating Institute of America is the official governing body of the Bing National Tailgating Championship. www.tailgatinginstitute.com/bing.
*Source: Microsoft
(Visited 28 times, 1 visits today)