If you would like to publish your Excel data online as a web page, let's say as HTML file, then follow these steps:
Open
the worksheet you want to save or
select
the range of your data that you want to publish.
Click on File or Microsoft Office button > click
Save As
The 'Save As' window opens.
From
Save as type:
> select
Web Page
> type any file name
Look, in the image, above the
Publish...
button you have two options – either to save the
Entire Workbook
or
Selection: Sheet
(for current worksheet). I will select the current worksheet only.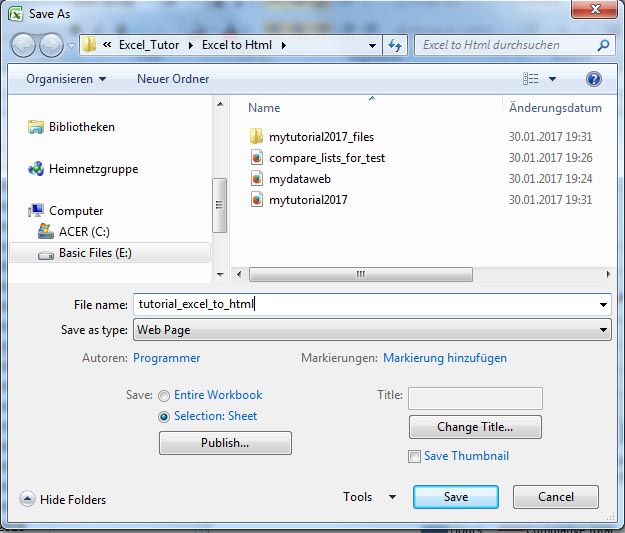 But if you select any range from your worksheet, then it would show you the selected range.
click the
Publish
button > the
Publish as Web Page
window opens.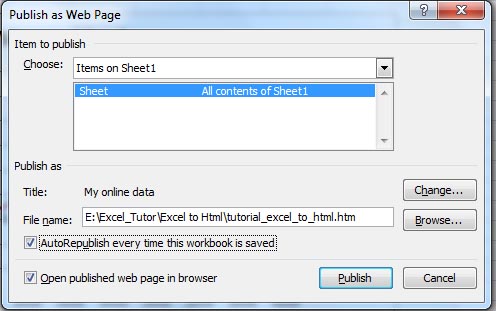 Here under
Publish as:
click on
Change...
(to give a title) >
Set Title
window opens (type any suitable title for your data)
click on
Browse...
to choose the location to save your web page
check or click the
AutoRepublish every time this workbook is saved
– this will automatically republish your Excel data after each saving of your worksheet.
check or click the
Open published Web page in browser
– this will open the web page immediately after the saving.
Click on
Publish
.
That's it

*

Recommended

:
Read wonderful articles (English & German) on Science & Tech, Environment, Health and many other topics only on
BlogArena.
For comments of suggestions, please contact us:
info@shamskm.com