So you want to remove the table in your word document while the text inside the table should retain its structure as it is, right?
Select the table
by clicking on the small plus sign on the top left corner.

Once you select the table, two new menu options appear on the Menu bar – Design and Layout.
Click the
Layout tab
on the ribbon > click
Covert to Text

Convert Table to Text window opens > select Separate text with
Tabs
(it's the best option to retain the structure, however you can try the others as well) > click
OK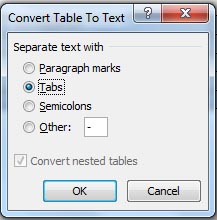 It retains the structure almost as it was. You can, however, use Tab or Space bar to rearrange the text.

Have fun

*

Recommended

:
Read wonderful articles (English & German) on Science & Tech, Environment, Health and many other topics only on
BlogArena.
For comments of suggestions, please contact us:
info@shamskm.com